Katie Ellis
Whether you are wanting to go to shows or would just like to improve your horse riding skills, you are welcome at Marshall Equestrian.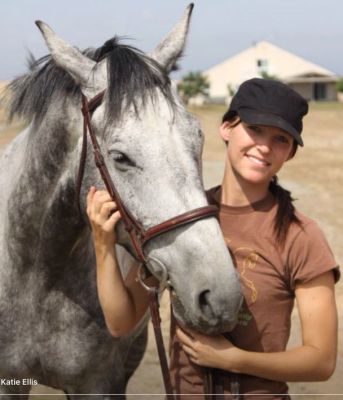 About Our Trainer Katie Ellis
Katie grew up in Northern California riding in pony club and competing in eventing. At age 19, she moved to Southern California to work for several top hunter jumper trainers riding and teaching. Katie also worked and was instructed by Lisa and Brian Sabo for several years. While working at Sabo Eventing, Katie helped them start the Costa Mesa Pony Club and lesson program for kids and adults.

At age 25, Katie moved to Australia. While in Australia Katie rode a young off the track thoroughbred competing and going to lots of clinics, learning as much as she could. She also got to experience what it's like to compete in another country, and had several students she worked with while she was there.

Katie has been riding and competing since age 5. She is now excited to use all her experience and lifelong knowledge to start up her own training business and teach people a safe and fun way to enjoy their horse. Her deep respect and love for horses is her ultimate motivation, and to that end, she enjoys working with horses and their riders to make the relationship a successful one. Whether you goal is to gain confidence, ride dressage, or compete in horse shows, Katie loves to share her knowledge. In training horses and people, Katie's goal is a happy, safe and competent rider on a happy, healthy, well-trained horse.  Katie is also continually working to further her own professional development, and take clinics and lessons from dressage, eventing and hunter jumper professionals whenever possible.